Why Macabi Skirt
If you've spent a lot of time looking for the perfect outdoor skirt, take a look at the Macabi Skirt! The Macabi skirt has proven to be one of the most rugged, versatile and well-traveled garments on the planet. Macabi skirt is much more comfortable and functional than normal skirts or pants, comes with huge pockets to carry everything you don't want to leave in your pack, AND a zippered security pocket for your passport. The Macabi skirt is suitable for all leisure activities such as gardening, camping, hiking, trips to town... everything. The Macabi Skirt adapts to changes by converting from skirts to pants suitable for the weather, your activity or your mood
Explore more styles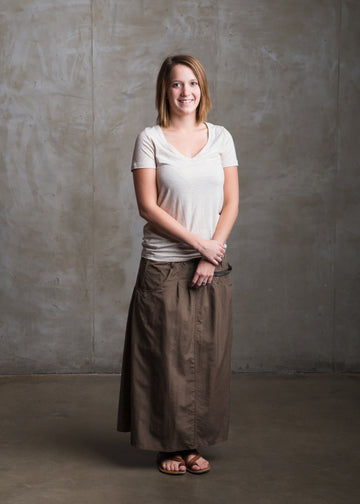 Now Available!
New arrival items
There are 3 colors ( Mocha, Off White and Terra Cotta ) available for sale for all styles of Macabi Skirts now.
Shop Now
Your Perfect Travel Companion
Amazing skirt for a non-skirt girl!
"I bought 2 Macabis last year for a trip to Mozambique and absolutely fell in love with them. Understand that I HATE skirts and avoid them at all costs...Until I found these! They are amazing. Cool, comfortable, easy to travel. I have worn them for outdoor manual labor, hiking, camping, international travel, dining out...and I just purchased two more in some fun colors! The versatility of the fabric and design is perfection. Thank you Macabi for creating the perfect skirt/not skirt!!!"
Our Story
Carol Louder Wanted a Skirt.
It all started with a bone fishing trip to the Yucatan. Carol knew a skirt would be ideal for the climate, and more respectful of the local culture. But it would have to handle the heat and the sun. It couldn't get tangled in her line. It would have to dry quickly after wading. After all that, it would have to stand up to cocktails and dinner. She was disappointed. No such skirt existed.
Read more
skirt into pants
HOW IT WORKS
The Macabi Skirt is adjustable so that it adapts to changes in weather, activity, or mood.
Read more